PUBLISHED STUDIES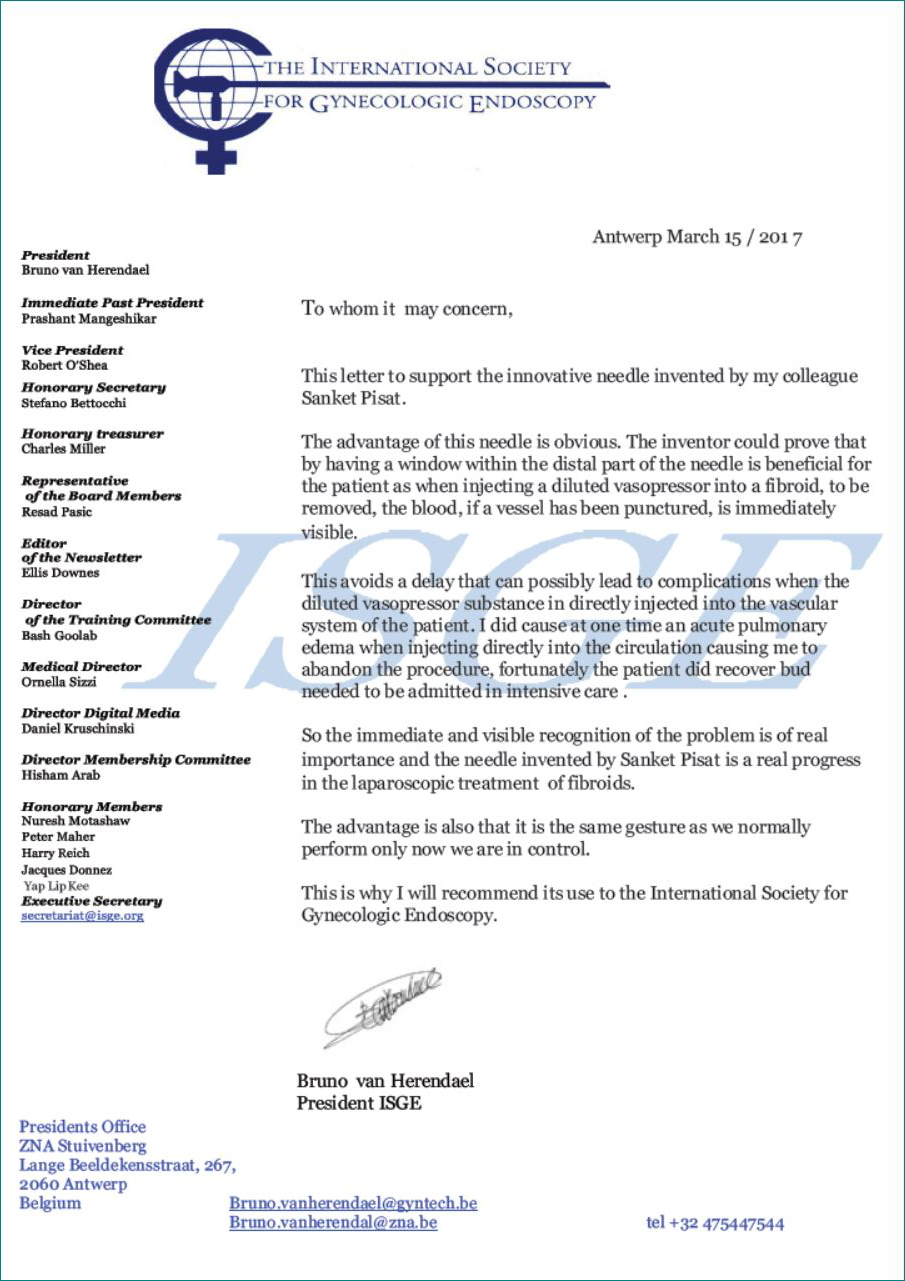 Letter of appreciation for Pisat's VVI needle from Prof Bruno van Herendael, President ISGE (International Society of Gynaecological Endoscopy)
Pisat's Visual Vasopressor Injection Needle- Published on www.thetrocar.com Official online journal of the International Society of Gynaecological Endoscopy (ISGE)
https://www.thetrocar.com/index.php/instruments/46-scientific-appraisals/209-pisat-s-visual-vasopressor-injection-needle-vvin
---
Pisat's Visual Vasopressor Injection Needle: A New Device for Increasing Patient Safety in Laparoscopic Myomectomy.
http://rdcu.be/vNRC
---
Pisat's Visual Vasopressor Injection Needle: Instrument review article published in the Indian Journal of Obstetrics and Gynaecology.
www.jogi.co.in
http://rdcu.be/vNRC
---
Published in the 30th edition (March- April 2017) of the journal "Surgical Technology International" , an american peer reviewed journal, indexed in PubMed. The journal covers the latest advances in technology and equipment design across all medical specialities like gynecology, orthopaedics, neurosurgery etc. The editorial board, for gynaecology comprises of eminent international faculty like Dr Harry Reich and Prof Arnaud Wattiez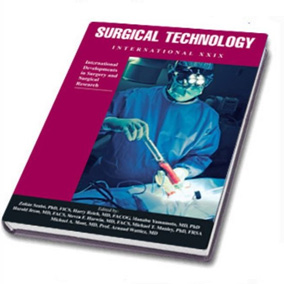 Click here to view the article
https://www.ncbi.nlm.nih.gov/labs/articles/28277598/

Click here to download the article
http://www.surgicaltechnology.com/LibraryOnline/30-NOS-Gynecology.htm
Pisat's Visual Vasppressor Injection Needle
An Innovative Tool for Increasing Patient Safety in Laparoscopic Myomectomy.
Synopsis of the results:

Aims and Objectives
To describe a new design of an injection needle, Pisat's Visual Vasopressor Injection Needle (VVIN) that can be used during laparoscopic myomectomy to minimise the incidence of an inadvertent intravascular injection of a vasoconstrictor solution.

Results
A total of 53 patients who underwent laparoscopic myomectomy at various hospitals in Mumbai, India were studied over a period of two years. Out of these, 23 patients were operated upon using a standard 5 mm laparoscopic injection needle, and 30 patients were operated upon by using a VVIN. Out of the 23 patients in whom a regular needle was used, 4 patients (17.39%) demonstrated a significant (over 20 percent of pre injection value) but transient elevation in pulse and blood pressure readings at 1 minute post injection. This gradually returned to baseline at 10 minutes after the injection. None of the 30 patients in whom VVIN was used after confirming a negative aspiration demonstrated any significant change in post-injection pulse or blood pressure recordings. The mean elevation in pulse rate and systolic blood pressure at 1 minute was higher in group 1 (Regular needle group) than group 2 (VVIN group) (Chart 1 & 2) . The mean diastolic blood pressure showed a statistically significant higher elevation at 1 minute in group 1 rather than group 2. (Chart 3 and 4)

Conclusions
Using a VVIN during a laparoscopic myomectomy enables the surgeon to detect an inadvertent vascular puncture very early, even in a small calibre blood vessel, and with much more sensitivity than a regular needle. This increases patient safety during the intra myometrial injection of a vasoconstrictive agent during myomectomy and reduces the incidence of catastrophic complications.